4 Great Photography Locations in Naples Florida
by Jim Harmer - Naples Photography Group
(photo of Bayfront at night is courtesy of Jim Harmer)
Naples Florida is one of the most photogenic communities in the United States. Photographers come to Southwest Florida to shoot the beautiful white-sand beaches of Marco Island, the Everglades, and birds in the Estero bay; however, some of the best photography in the region can be had right in Naples. The following is a rundown of 4 great places to shoot photography in Naples, Florida.
The Naples Pier
The Naples Fishing Pier is a historic landmark that is the most recognizable symbol of Naples. At the pier, photographers will be able to shoot skim boarders, para-sailors, sweeping panoramas of the pier in the sunset, and the diverse cultures represented by the tourists at the pier.
Bird Photography at Clam Pass Beach
Egrets, herons, roseate spoonbills, ospreys, and pelicans can all be shot at Clam Pass. This beach is especially attractive for bird photographers because there is a long winding river leading to the ocean through a mangrove forest on the edge of the beach. This large area full of plant life and shallow water is attractive to birds looking for a meal. One of the best locations to shoot is the long boardwalk leading up to the beach. This high boardwalk allows you to shoot on the same level as many of the birds, allowing you to get an interesting angle on the birds.
Night Life on Fifth Avenue
Fifth Avenue is the center of night life in Naples. Photographers who enjoy shooting concerts in bars, people on the street, or the beautiful lights along the street will love shooting this location on weekend nights. Parking on Fifth Avenue can be difficult to find, so look to park on the side-streets and walk over.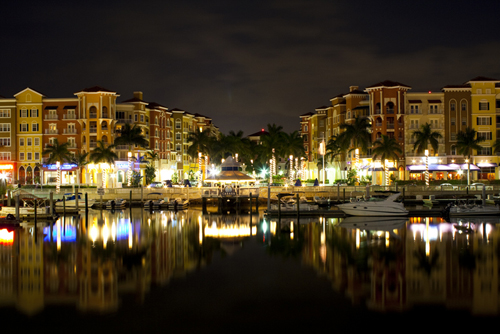 Architectural Photography in Port Royal and Downtown
Photographers who enjoy shooting architecture will LOVE shooting in Naples. Port Royal is a neighborhood of extremely lavish homes south of the Naples Pier along Gulf Shore Boulevard in South Naples. The property is all private, but there are entrances to the beach off of Gulf Shore Boulevard where photographers can walk to the beach and shoot photos of the beautiful homes (careful to respect privacy). Another great location is the Bayfront area in downtown Naples on the corner of Fifth Avenue and Goodlette Frank Road. The Italian-style buildings in this area are sure to excite any architecture photographer.
Jim Harmer is a photographer in Naples, Florida and author of "Improve Your Photography: How Budding Photographers Can Get Pro Results." You can contact Jim at emailharmer@gmail.com or on facebook at facebook.com/harmer